MARIE BROOKS STRANGE MUSIC BUILDING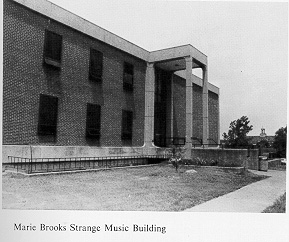 The MARIE BROOKS STRANGE MUSIC BUILDING located east of the STUDENT UNION BUILDING was erected in 1968 dedicated 1969 and named by 1979. The brick and glass structure was the first of its kind on campus to be devoted entirely to music. The Music Department had been housed in the WOMEN'S INDUSTRIAL BUILDING, THE WOMEN'S BUILDING or the JANE E. ELLIOTT BUILDING. The present structure contains an administrative area, a modern music appreciation center, spacious band room with adjoining area for instrumental instruction, repair and storage, practice rooms, choir room, and recital hall, large classrooms and closed circuit television facilities.
Marie Brooks Strange was the founder of the famed Tennessee A & I State College Concert Singers in 1931 whose musical achievements were acclaimed by critics throughout the nation. Beginning around 1932, the Concert Singers gained national renown and created a previously unparalled public image of the College. The singers were featured several times on nation-wide broadcasts over CBS and NBC. As the group's fame increased, many unique requests and assignments were received. For example, they sang "Hand Me Down the Silver Trumpet, Gabriel" by request for U. S. President Franklin Delano Roosevelt on his visit to Nashville, November 17, 1934; were presented in the commodious opera house in St. Louis, Missouri during the meeting of the National Education Association in 1936; sang at both the Chicago World's Fair 1932 and 1933, and the New York World's Fair 1939; and invited by Mrs. Eleanor Roosevelt to sing at the White House in 1943. Musical performances conducted by Mrs. Strange were virtually countless. As a concert pianist and organist, she charmed audiences of thousands. Joining the College faculty-in 1929, she exerted a profound influence on the life of those who breathed the stimulating atmosphere of her genius and the inherent musicality she possessed.