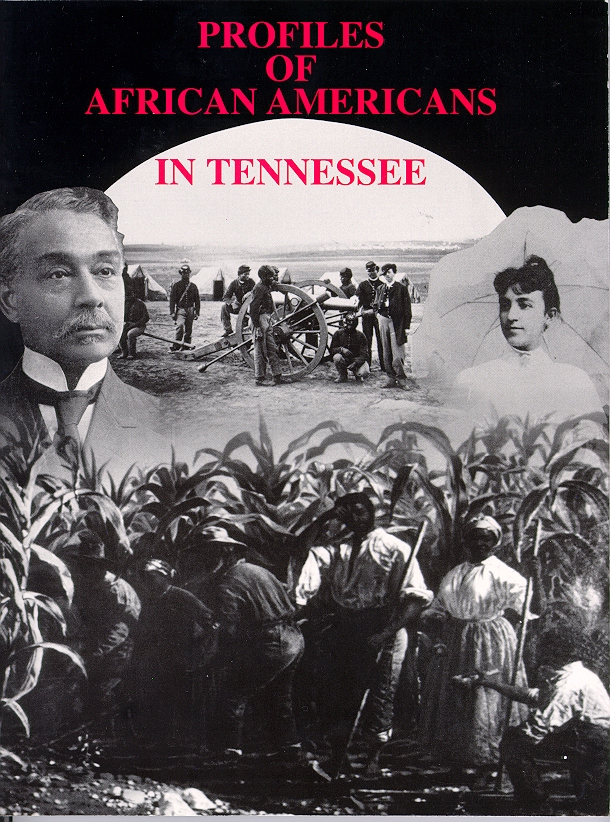 Bobby L. Lovett
and
Linda T. Wynn
Editors
Nashville, Tennessee
1996
---
Copyright (c) 1996 by the Annual Local Conference on Afro-American Culture and History, Nashville, Tennessee. All rights reserved. No part of this book may be reproduced or transmitted in any form or by any means, electronic or mechanical, including photocopying, recording or by any information storage retrieval system, without permission in writing from the editor or their assigned representative at the Annual Local Conference on Afro-American Culture and History, Tennessee State University, Nashville, Tennessee, 37209-1561.
---
Cover illustrations (clockwise, beginning with center painting): Southern Cornfield. An 1861 painting by Thomas Waterman Wood is part of the permanent collection at Wood Art Gallery, Montpelier, Vermont, and was included in the Special Tennessee Historical Quarterly issue (Vol. XLIV, No. 2), Landscape and Genre Painting in Tennessee, 1810-1985, James C. Napier, from the Nashville Globe; members of the Second United States Colored Light Artillery Regiment, Battery A, Nashville, 1864, courtesy of the Chicago Historical Society; and Mary Church Terrell, from Nineteenth Century Memphis Families of Color, 1850-1900, by Roberta Church and Roland Walter.
Selected illustrations used by permission of: American Baptist College; Fisk University Library Special Collections; John A Baker, Jr.; Bethlehem Centers of Nashville; Robert L. Booker and Beck Cultural Exchange Center, Knoxville; L. A. Bowman, Jr.; Bradley Academy Historical Association; Emma White Bragg; Capers Memorial CME Church; Roberta Church and Ronald Walter, Nineteenth Century Memphis Families of Color 1850-1900; Country Music Foundation; Cumberland Valley Girl Council; Virginia Edmondson; First Baptist Church Capitol Hill; John W. Frierson Foundation; Jackson-Madison County Public Library; House of God Church, Nashville; Bobby L. Lovett; McKissack and McKissack Architects; Metro Nashville Historical Commission; The Tennessean, Nashville; National Baptist Publishing Board; Pearl High School Alumni Association Gallery; Ed Frank and Mississippi Valley Collection, University of Memphis; Tennessee State University Special Collections; and T. W. Utley family.
---