WILLIAM HENRY HASTIE (1904-1976)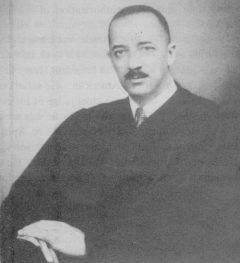 William Henry Hastie was born in Knoxville, Tennessee, to William Henry and Roberta (Child) Hastie on November 17, 1904. He received his primary education in the Knoxville public schools and in the schools of Washington, D. C. After being graduated from Dunbar High School in Washington, Hastie entered Amherst College. He later was elected president of Amherst's Phi Beta Kappa chapter. First in his class, Hastie was graduated from Amherst College in 1925 with an A.B. degree. Following his graduation, he joined the staff of New Jersey's Bordentown Manual Training School, where he taught until 1927. Three years later, he earned an LL.B. degree from Harvard University, where he served on the staff the Harvard Law Review. Attorney Hastie joined the faculty of Howard University Law School, and in 1931 he was admitted to the District of Columbia Bar. He entered private practice in association with the law firm of Houston and Houston. In 1932, he was graduated from Harvard University with the degree of Doctor of Juridical Science.
Following the 1932 election of Franklin Delano Roosevelt as President of the United States, Dr. William H. Hastie was one of the bright young African Americans who achieved high visibility as a race relations advisor to the Roosevelt administration. In 1933, Hastie left his private law practice to accept the position of assistant solicitor of the Department of the Interior.
Subsequent to his tenure with the Department of the Interior, in 1937 President Roosevelt appointed Dr. Hastie judge of the Federal District Court in the Virgin Islands. Confirmed on March 26, 1937, he became the nation's first African-American federal magistrate. Although the Virgin Islands were ninety percent black, no person of African descent before Hastie had been appointed to a federal judgeship. Judge Hastie served on the bench for two years before resigning his judgeship to return to Howard University's School of Law as dean and professor of law.
From 1941 to 1943, William H. Hastie served as civilian aide to Secretary of War Henry L. Stimson. On January 15, 1943, he resigned his position as Secretary of War Stimson's civilian aide to protest the govemment's racial policies of segregation and discrimination in America's armed forces. Later in 1943, William Hastie was awarded the National Association for the Advancement of Colored People's prestigious Springarn Medal "for his distinguished career as jurist and as an uncompromising champion of equal justice." In 1944, Hastie supported the position of the National Committee to Abolish the Poll Tax, demanding senatorial authorization of the proposed law to enjoin the levy in elections.
On May 7, 1946, Hastie was inaugurated as the first African-American governor of the Virgin Islands. On October 15, 1949, he was nominated judge of the Third United States Circuit Court of Appeals by President Harry S. Truman. It was the highest judicial position attained by an African American. He served on the appellate court bench for twenty-one years. In 1968, he became chief judge of his circuit and in 1971, the year of his retirement from the bench, William Henry Hastie was senior judge.
Dr. William Henry Hastie died on April 14, 1976, at Suburban General Hospital ill East Norriton, Pennsylvania. Funeral services were held on April 17 at the Temple University Baptist Chapel in Philadelphia. He was survived by his wife, the former Beryl Lockhart; a son, attorney William H., Jr.; and a daughter, attorney Karen H. Williams.