NASHVILLE SIT-INS (1959-1961)
On February 1, 1960, four North Carolina Agricultural and Technical College students captured America's attention when they sat down at Woolworth's lunch counter in Greensboro, North Carolina, and requested service. However, prior to this demonstration and between 1943 and 1960, sit-ins had taken place in Chicago, St. Louis, Baltimore, and at least fifteen cities, including Nashville, Tennessee. The earlier protests did not gain full attention until 1960, when the southern civil rights movement gained momentum.
Although Nashville was considered to be the "Athens of the South" and a few blacks served on the Board of Education, the city council, and the police force, blacks and whites were racially segregated. The pattern of racial exclusiveness prevailed in Nashville's schools and public facilities, including rest rooms, waiting areas, snack counters, transportation terminals, libraries, theaters, hotels, restaurants, and neighborhoods. Jim Crowism pervaded all aspects of life in Nashville and throughout the South. In 1958, local black leaders founded the Nashville Christian Leadership Conference (NCLC), an affiliate of Martin Luther King, Jr.'s Southern Christian Leadership Conference. On March 26-28, 1958, NCLC members held a workshop on nonviolent tactics against segregation. Under the leadership of the Reverend Kelly Miller Smith, NCLC president and pastor of First Colored Baptist Church on Eighth Avenue, North, the workshops continued in the church's basement throughout 1958. Early in 1959, the NCLC began a movement to desegregate downtown Nashville.
During November and December, 1959, the institutionalized policy of segregation was tested at Harvey's and Cain-Sloan's department stores. The Reverends Smith and James M. Lawson, Jr., students John Lewis, Diane Nash, James Bevel, Marion Barry, and others bought goods and then attempted to desegregate the lunch counters. Before the end of 1959, other college students were being trained to participate in the protests. The students were from Nashville's black colleges, including Fisk University, Tennessee A & I State University, Meharry Medical College, and American Baptist Theological Seminary. However, the Greensboro, North Carolina, student demonstrations received the first publicity on February 1, 1960. Twelve days later, on February 13, 1960, Nashville's black college students launched their first full-scale sit-ins. The students convened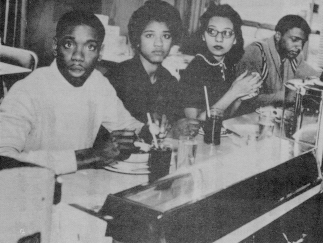 at the Arcade on Fifth Avenue, North, and entered Kress's, Woolworth's, and McClellan's stores at approximately 12:40 p.m. They made purchases and then occupied lunch-counter seats. Nearly two hours later, the stores closed their lunch counters, and the students left without incident.
For the next three months the students continued the sit-ins, adding Greyhound and Trailways bus terminals, Grant's variety store, Walgreen's drugstore, and Cain-Sloan's and Harvey's department stores as targets. The students' principles of direct nonviolent protest and written rules of conduct became models for later protests in the South. When the students were met with white violence and arrests on February 27, the black community rallied to support them with attorneys and bail money. Some eighty-one students who were found guilty of disorderly conduct on February 29 refused to pay the fines and chose to serve time in jail. Vanderbilt University's administrators expelled the Reverend James Lawson, a divinity student, for participating in the sit-ins.
On March 3, Mayor Ben West appointed a biracial committee to investigate the issues. The mayor's committee recommended on April 5 that lunch counters be divided into white and black sections. The NCLC rejected the proposal.
In the pre-dawn morning of April 19, the home of attorney Z. Alexander Looby, legal counsel for the demonstrators, was destroyed by dynamite. In response to the racial violence, blacks marched to Nashville's City Hall to protest to Mayor Ben West; the city official finally conceded to Fisk student leader Diane Nash that he felt segregation was wrong and that lunch counters should be desegregated. On May 10, 1960, Nashville became the first major city to begin desegregating its public facilities.
In September of 1990, the Metropolitan Historical Commission erected a historical marker on the southwest corner of Charlotte and Eighth Avenue, North, commemorating the Nashville sit-in movement and its NCLC headquarters, the former site of First Colored Baptist Church (Capitol Hill). On April 19, 1995, the thirty-fifth anniversary of the pivotal march and sit-in movement was observed. The former-student organizers of the movement returned to Nashville for a full day of activities, including the unveiling of a Metro historical plaque at City Hall, a symposium at the Freedom Forum First Amendment Center of Vanderbilt University and at Fisk University Chapel (a point of origin for the 1960 march), and placement of a state historical marker at the northeast corner of Jefferson Street and Dr. D. B. Todd Boulevard (formerly Eighteenth Avenue, North) to commemorate the route of the 1960 civil rights march and the Nashville Sit-In movement.