EMMA ROCHELLE WHEELER (1882-1957)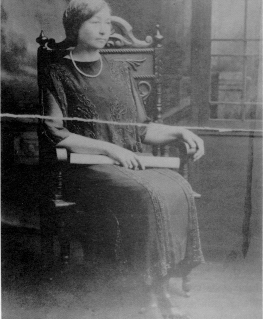 A native Floridan, Emma Rochelle Wheeler was born near Gainesville on February 7, 1882. She grew up in Florida, where her intrigue with the medical profession was aroused at the early age of six. An eye problem prompted her father to take her for treatment to a white female diagnostician. Young Emma and the female physician became friends, and when she went to school in Gainesville the doctor's abiding concern for and interest in her continued. She visited Emma at Cookman Institute in Jacksonville. At age seventeen, Wheeler finished Cookman and in 1900 she married Joseph R. Howard, a teacher.
Howard died a year later of typhoid fever, never seeing the son named for him. Shortly after Howard's death, Emma and young Joseph moved to Nashville, Tennessee. She attended Walden University, and in 1905 her dream became a reality when she was graduated from Walden University's Meharry Medical, Dental, and Pharmaceutical College. She also was married to Dr. John N. Wheeler during the week of Meharry's commencement.
Following graduation, John N. and Emma R. Wheeler moved southeast of Nashville to Chattanooga and with meager resources set up their medical practice on Main Street. For ten years, John and Emma practiced together. In 1915, Dr. Wheeler purchased two lots on East Eighth Street at the corner of Douglas, where she had a three-story building constructed. After the structure's completion, on July 30, 1915, the thirty-bed, nine private rooms, and twelve-bed ward of the medical dispensary was dedicated as the Walden Hospital.
Complete with surgical, maternity, and nursery departments, Walden Hospital was staffed by two house doctors and three nurses. Seventeen physicians and surgeons from the Mountain City Medical Society used the new facility and admitted their patients. The median monthly patient load was twelve. Although Dr. John N. Wheeler admitted his patients to the facility, it was managed, operated, and paid for by Dr. Emma R. Wheeler.
While maintaining long office hours and serving as superintendent of Walden Hospital, Dr. Emma Wheeler personally performed a number of the surgical procedures. However, she found surgery too exhausting to continue, in addition to her other responsibilities. For more than twenty years, Dr. Wheeler also maintained a school for nurses. She, with the assistance of her husband, taught and trained many students who were interested in becoming attendant care-givers. In 1925, Dr. Wheeler initiated the Nurse Service Club of Chattanooga, an innovative, prepaid hospitalization plan. The Nurse Service Club, the only one of its type in Chattanooga, was entirely separate from the hospital's operation.
In 1949, the Chattanooga branch of the National Association for the Advancement of Colored People (NAACP) voted Dr. Wheeler the "Negro Mother of the Year." Wheeler was a member of the Mountain City Medical Society; the State Volunteer Medical Association, treasurer and member of the board of trustees of Highland Cemetery; and a member of Wiley Memorial Methodist Church. In January of 1925, she, along with Emma Henry, Zenobia House, and Marjorie Parker, organized the Pi Omega Chapter of Alpha Kappa Alpha sorority, Chattanooga's first AKA chapter.
Dr. Emma Rochelle Wheeler's health began to decline in 1951 and two years later, in June of 1953, she retired from operating and managing Walden Hospital. With her retirement, Chattanooga's first and only African-American owned and operated hospital ceased operation on June 30, 1953, after thirty-eight years of service. For a while, Dr. Wheeler continued to practice general medicine, receiving her patients on the first floor of the former hospital building.
At age 75, on September 12, 1957, Dr. Emma Rochelle Wheeler drew her last breath in Nashville's Hubbard Hospital. The body of the pioneering health-care provider was conveyed back to Chattanooga and funeral services were held on September 17 at the Wiley Memorial Methodist Church. She was buried in Highland Cemetery.
Five years after her death, the Chattanooga Housing Authority named the city's newly completed housing project the Emma Wheeler Homes. Ten years later, as a part of its Black History Week celebration, the Chattanooga branch of the Association for the Study of Negro Life and History paid homage to the life and contributions of Dr. Emma R. Wheeler as one of the city's pioneering African-American women. On February 16, 1990, the Tennessee Historical Commission approved the placement of a state historical marker at the site of Walden Hospital, established, owned, and operated by Dr. Emma Rochelle Wheeler.